Reform candidate wins out over better-known names but says he looks forward to working with Jo Bacon and Sumita Singha in future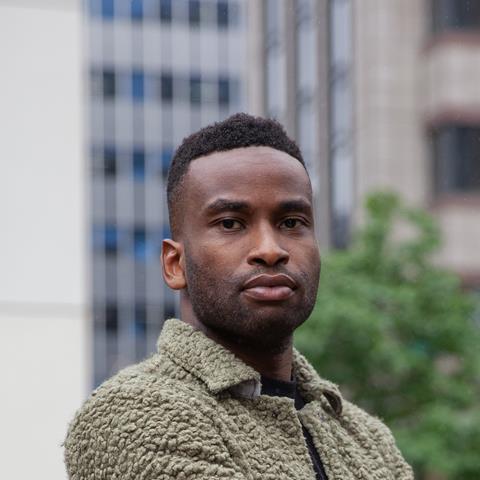 Muyiwa Oki has been elected as the next RIBA president after one of the most hotly contested elections for the post in recent years.
Oki won at the second stage with 49.28% of the votes in a three-horse race against Jo Bacon and Sumita Singha. This is the first elected position that Oki will hold at the RIBA. He will take over from Simon Allford next September and assume the role of president-elect next month.
Oki is a salaried architect at Mace Group working on technology and innovation in support of off-site manufactured solutions for major public programmes. He stood on a platform of reform, promising to work for improved working conditions and increased diversity in the profession. He has previously worked for Glenn Howells Architects and Grimshaw.
只有12.4%的人参加投票,这表明该协会的成员缺乏参与。投票总数为6020张。在第一轮投票中,大木获得2456票,培根获得2317票,辛格获得1247票。Oki won with second preference votes taking his total to 2,967, against 2,733 for Bacon.
Oki说:"我很感激草根运动,他们的支持和热情提供了一个代表建筑工人的平台。最重要的是,特别感谢那些对这一运动做出回应、收看和投票的成员和提名人,尤其是那些第一次这样做的人。
"We can be proud of an election where people of colour, at different stages of their careers, of all identities, can be heard and seen bidding to represent the profession. I hope this is the start of many great things to come for those who feel disenfranchised and under-represented.
"I am proud of my campaign, the discourse has been positive, energetic and inspirational. It has been a privilege to run alongside Jo and Sumita and, as RIBA council and board members, I am looking forward to working with them both to deliver equity, transparency, and innovation in architecture."
现任RIBA主席奥尔福德说:"祝贺Muyiwa领导了一场值得称赞的运动,他的竞选宣言聚焦于职业的未来。对于RIBA来说,这是一个激动人心的时刻,因为我们塑造了一个更精简、更敏捷的组织,以支持我们的全球成员,并参与所有对架构感兴趣的人。
"在2023年9月把权力移交给穆伊瓦之前,我期待着作为当选总统与他密切合作。"