Lendlease and Bell Phillips complete timber 'tree house' within the heart of Elephant Park
A new pavilion designed by Bell Philips Architects has been completed at the centre of Elephant Park. It sits within a two-acre park, forming the centrepiece of Lendlease's £2.3 billion estate redevelopment scheme.
The building has been constructed from cross-laminated timber and has been designed around an existing mature London Plane tree. The pavilion includes a cafe, multi-functional space and a public roof terrace that allows members of the public to climb up into the tree canopy.
Bell Phillips还设计了其他位于南华克公园和粮仓广场的展馆方案。大象公园的展馆作为一个重要的视觉标志,定义了从Sayer街进入公园的门户。周边景观由Gillespies设计。
Kristy Lansdown, Lendlease Project Director for Elephant Park, said: "We are so fortunate to have one of the greatest natural assets within our neighbourhood, the London plane trees, which have been the inspiration behind the architecturally striking and sustainable pavilion at the heart of our green oasis.
"The team at Bell Phillips have helped bring our vision to life by designing a memorable space that provides the community with somewhere to host events, relax with a coffee, meet friends or just sit and watch the world go by. We hope it will become a much-loved addition to this growing neighbourhood."
Elephant Park replaces the post-war Heygate Estate and has met with controversy due to allegations that it has led to the loss of affordable housing and gentrification of the area. When completed in 2025, Elephant Park will include 3,000 homes and 50 units for retail, restaurants and cafes.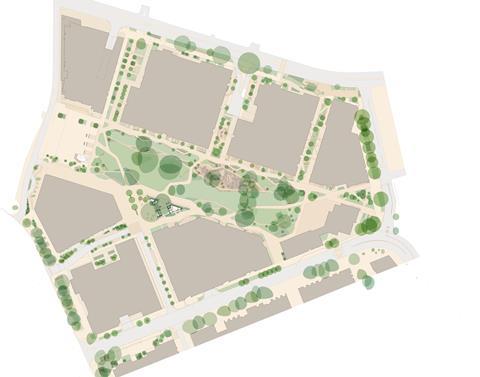 Postscript