Winners will be announced at live Architect of the Year awards on 18 October
The shortlists for the 2022 Architect of the Year Awards have been announced.
The entries have been whittled down to the 78 unique finalists shown below. They include Allies & Morrison, HTA Design, Sheppard Robson, Coffey Architects and Feilden Clegg Bradley Studios.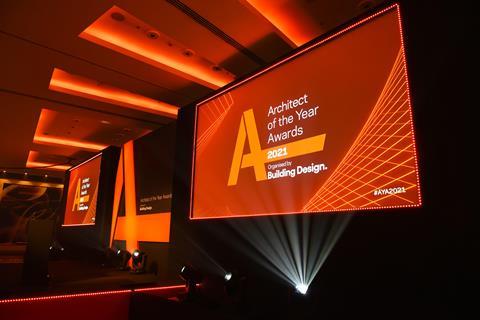 Alongside trophies for work in all the main sectors, there is also a Gold Award that will be presented on the night.
This is our award for the 'best of the best'. The winning architectural practice in each category will be put forward for a judges' vote to determine our Gold Award winner for 2022.
The Architect of the Year Awards, run by Building Design, are the only awards that reward architects for a consistent body of work rather than one-off projects.
The judging panel this year includes Maria Cheung, director and head of interior design, Squire & Partners, James McCosh, partner, van Heyningen & Haward Architects, Edmund Fowles, director and co-founder, Feilden Fowles, Michál Cohen, director and co-founder, Walters & Cohen Architects, Manisha Patel, senior partner, PRP, and Rafael Marks, principal, Penoyre & Prasad.
Tickets for the awards ceremony, which will be held at The Brewery on 18 October, arenow on sale.
Architect of the Year Awards 2022 shortlist
NET ZERO ARCHITECT OF THE YEAR
Fuse Architects
Atkins
IBI Group
HLM Architects
HTA Design
HIGHER EDUCATION ARCHITECT OF THE YEAR
AHR
Gort Scott
Feilden Clegg Bradley Studios
Sheppard Robson
Penoyre & Prasad
HLM Architects
Bond Bryan
Haworth Tompkins
INDIVIDUAL HOUSE ARCHITECT OF THE YEAR
Napier Clarke Architects
Erbar Mattes
Eldridge London
Mclaren Excell
Fletcher Crane Architects
shedkm
Denizen Works
Hayhurst & Co
REFURBISHMENT ARCHITECT OF THE YEAR
Buckley Gray Yeoman
3DReid
Purcell Architects
Feilden Clegg Bradley Studios
Haworth Tompkins
Gort Scott
Lifschutz Davidson Sandilands
Ben Adams Architects
PRIVATE HOUSING ARCHITECT OF THE YEAR
Falconer Chester Hall
Sergison Bates Architects
JTP
shedkm
Coffey Architects
Allies and Morrison
Fletcher Crane Architects
Lifschutz Davidson Sandilands
PUBLIC AND SOCIAL HOUSING ARCHITECT OF THE YEAR
Mae Architects
HTA Design
PRP
Metropolitan Workshop
Haworth Tompkins
Archio
Anderson Bell Christie
RETAIL AND LEISURE ARCHITECT OF THE YEAR
GT3 Architects
Faulkner Browns Architects
Tate + Co
Dexter Moren Associates
PUBLIC BUILDING ARCHITECT OF THE YEAR
Wright & Wright
Scott Tallon Walker Architects
Stonewood Design
FaulknerBrowns Architects
HLM Architects
Bond Bryan Architects
Weston Williamson + Partners
Citizen Design Bureau
SOCIAL VALUE AWARD
Atkins
tp bennett
RCKa
HLM Architects
INTERIOR ARCHITECT ARCHITECT OF THE YEAR
Sponsored by Zentia
Buckley Gray Yeoman
3D Reid
Atkins
tp bennett
MSMR Architects
Proctor and Shaw Architects
HLM Architects
ConForm Architects
SMALL PROJECT ARCHITECT OF THE YEAR
ArkleBoyce Architects
Gibson Thornley Architects
Denizen Works
YOUNG ARCHITECT OF THE YEAR
Butcher Bayley Architects
Design Haus Architecture
Freehaus
Fisher Cheng
Maich Swift Architects
Novak Hiles Architects
OFFICE ARCHITECT OF THE YEAR
Glenn Howells Architects
Lifschutz Davidson Sandilands
dMFK Architects
Barr Gazetas
Studio RHE
Henley Halebrown
Piercy & Company
Most Architecture
EDUCATION (nursery to 6th form) ARCHITECT OF THE YEAR
Walters & Cohen Architects
JM Architects
Sheppard Robson
Hayhurst & Co
Feilden Clegg Bradley Studios
Henley Halebrown
IID Architects
Cottrell and Vermeulen Architecture
EMPLOYER ARCHITECT OF THE YEAR
BPTW
Purcell
tp bennett
Butcher Bayley Architects
HLM Architects
Todd Architects
HTA Design
Assael Architecture