This extensive refurbishment and restoration project in Marylebone provides impact without the need to shout about it, writes Ben Flatman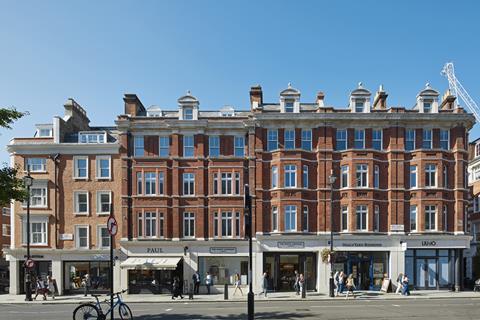 So much of the new architecture emerging across central London seems to demand our attention. Glittering metallic facades compete with soaring glass towers for eye contact. All this, while they bulge at the seams, self-evidently struggling to contain the bloated floor plates demanded by their financial backers.
The fine grain of the city's streets and mews with their mid-rise architecture is increasingly overshadowed. Amidst all the showboating, it can sometimes feel that London's very character is under threat.
So it's refreshing to come across a scheme like the Marlo, that goes out of its way to work with, and not against the grain of central London. Designed by Barbara Weiss Architects (BWA) for Dorrington, the Marlo is remarkable not for any scene-stealing urban intervention, but for its low-key and carefully considered approach to renovating half a block of retail and housing on Marylebone High Street.
该项目位于哈利街保护区内,采用了7栋现有建筑,一楼是零售商店,上面是住宅,并将它们重新想象成一个连贯的整体,有宽敞的流通空间和一个新的上升花园露台。
Although the main frontage is on Marylebone High Street, the site wraps around to the south and north onto Blandford Street and St. Vincent Street respectively. At the rear, the project backs onto commercial office space and St. Vincent's Primary School.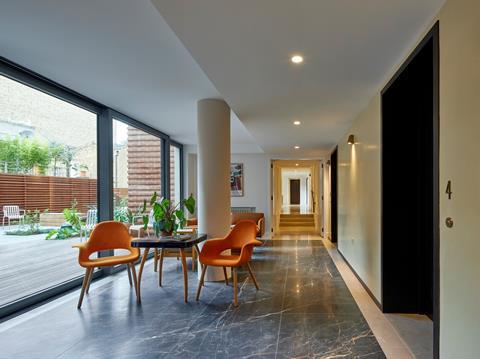 This jumble of buildings could have been ripe for façade retention or a similarly soulless treatment, but instead the architects have worked with the existing fabric. The historic facades have been cleaned and judiciously repointed. At ground level, Portland Stone finishes enliven the shopfronts and provide a new consistency that was previously lacking.
As leases ended and the ground floor retail units became available, enabling works took place, including the addition of a lift pit. This meant that construction was spread over a long period, beginning in 2017 and completing in 2022.
Although this is a significant chunk of central Marylebone, the most significant changes are not immediately apparent from the street. The transformation relates primarily to the residential areas and the rear courtyard. BWA has been working carefully over the last few years to radically overhaul the interiors and circulation spaces of what was previously a warren of staircases and poorly laid-out rental apartments.
A new generous lobby has been carved out of the ground floor on the Blandford Street side of the site. And new stair cores add a strong vertical coherence to the circulation, while shared corridors double as informal meeting spaces. There is a relaxed feel to the communal interior spaces that feels conducive to serendipitous social interactions.
Where there were previously twenty-seven poorly laid out residential units, BWA have redesigned every flat. They have also managed to add an additional four units through reconfiguring space and new extensions.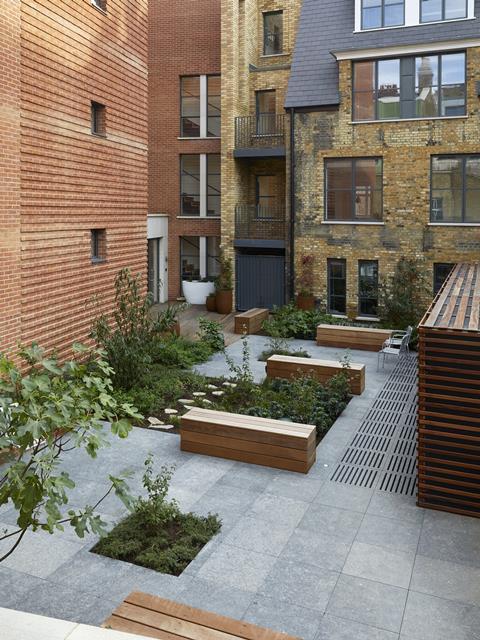 The rear of the site had been what BWA Director Karl Singporewala describes as a "dumping ground" for the retail units' HVAC equipment. This space has been completely overhauled. Services are now concealed in an acoustically insulated timber box that sits at the back of a landscaped communal garden terrace.
All windows have been replaced with new acoustic timber double glazed units to the front and steel windows to the rear. And the walls have been given a substantial thermal upgrade internally. Weiss wrote a book on storage and her attention to detail is evident here, with ingenious and generous storage throughout the apartments.
The development is constantly ventilated, with low level extraction in the bathrooms and kitchens, and trickle vents in the windows. Singporewala is particularly proud of the invisible acoustic trickle vents in the new sash windows, the inspiration for which came from a close study of historical sash window design.
Although a design and build project, BWA were both novated and retained on the client side simultaneously, with both practice directors, Weiss and Singporewala, sitting either side of the client-contractor 'wall' respectively. The result is an attention to detail and insistence on quality that's rare with such a procurement route. The fact that this is a build to rent development has doubtless incentivised the client in terms of its commitment to a well finished scheme.
This is an unshowy but deceptively complex project that demonstrates an empathy for London's historic fabric. By working with Marylebone's underlying character, BWA have enriched the area and helped give a new lease of life to a much-loved part of central London.
Client:
Dorrington
Project Team:
Barbara Weiss Architects - Lead Consultant and Architect
Quartz - Project Management
Price & Myers - Structural and civil engineers
Peter Deer and Associates - MEP engineers
Gerald Eve - Planning Consultant
Exigere - Quantity Surveyor
Clarke Saunders - Acoustic engineers
J&L Gibbons - Landscape Designer
Contractors and Suppliers:
Main Contractor - Forcia
Timber windows - Amodus
Steel windows and doors - Jansen Schueco
Joinery - Wilder Creative
Internal timber doors - Solid Wooden Doors
Ironmongery - Allgood
Timber Flooring - Waxed Flooring
Bathroom floor tiles - Marazzi
Mineral Paint - Keim
Polished Plaster - Armourcoat
Penthouse glass lanterns - Maxlight
Rooflights - The Rooflight Company
Entrance canopy - Glasstec Systems
Kitchen supplier - TM Italia
Portland Stone - Stone Build
Waterproofing - Bauder
Landscape contractor - London Garden Club