A private house extension in north London revels in the play of light and materials and reminds us of the power architecture has to lift up our daily lives, writes Matthew Lloyd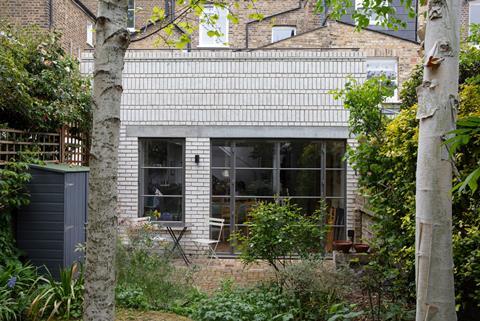 在我住的伦敦那条街上,因为新冠肺炎两次封锁期间,有一个建筑工人在房子周围囤积东西。我们家的路弯弯曲曲,绿树成荫,就在伊斯灵顿和哈克尼交界的纽灵顿格林附近,大部分是维多利亚中晚期的三层房屋,有半层地下室,底层被抬高了。毫无特色,但很好。
It's nice living in a social street and so, once the builder had left, I asked my neighbour if I could see inside. There was no evidence whatsoever of any changes at the front of her house and I had wondered what on earth had been happening inside for all those months of work.
I got a nice surprise. This turns out to be a beautifully judged conversion and extension by vPPR architects, with a notable and perhaps unique side-extension sawtooth roof design.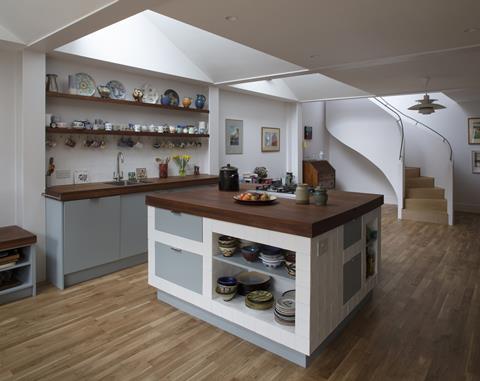 Victorian terraced houses are so utterly ubiquitous and repetitive. Most have the same typical plan. Either our forefathers could not be bothered to innovate once this plan had been invented, or the layout works so spectacularly well that they saw no need to change it.
这是房子的主体,然后是半支腿的延伸部分,通常从半平台进入。事实证明,这种不完美的安排在几代人之间是完全可以转移的,即使生活水平和习惯在几个世纪以来已经发生了变化。
Time and again "period" houses fetch higher prices than anything post-war: this remains our most-liked domestic typology, whose sheer convertibility is no doubt the reason for its popularity.
I am wondering how many side-return extensions have been built, say, over the past 30 years? Thousands or tens of thousands perhaps. This is the way, at least in recent decades, to turn a gloomy side yard to good use: what were once poky and depressing rear kitchens can now become glamorous living spaces.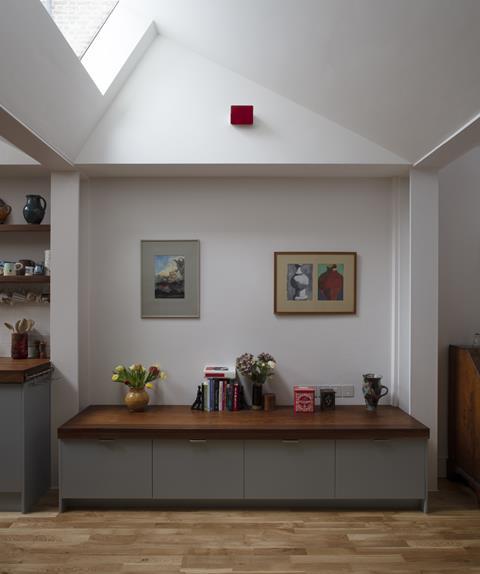 There is a generic solution to this design problem by removing the rear walls and replacing them with heavy beams and columns, then a flat or lean-to glazed roof over the old yard. Most often this is done in an unremarkable way, and just sometimes with excellent detailing and finesse.
早在2014年和2015年,vPPR建筑事务所就设计了两个不寻常的、令人难忘的伦敦后部住宅,Ott's Yard和拱形住宅。两者都在被忽视的场地上创造了主要是顶部照明的现代室内。在某种程度上,这些都使实践成为现实,显示出真正的独创性和勇气。
This new conversion and extension by the practice has a similar trademark. An expansive new lower ground-floor space has been created here with an unexpected, sawtooth roof zigzagging over the side yard and onwards out over a new rear extension, so creating a line of light-pockets down into the newly expanded room.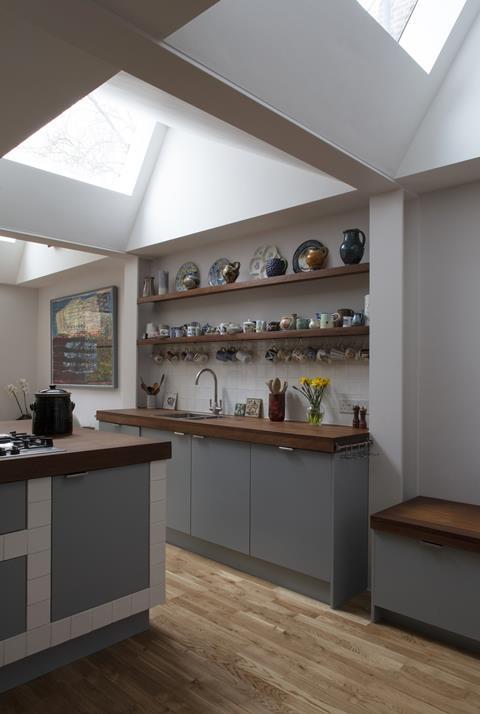 This arrangement is supported on an elegant steel structure, placing and expressing a row of columns out on to the property line. These three bays of structure echo three functions: living, cooking, eating.
From above, the roof tries to sit down but is only partially hidden behind a raised party wall and is unusually evident to the adjoining house. This is a full and ambitious statement of architectural intent – for me audacious – even in this small, hidden context.
The new rear extension faces a small, established garden with an elevation in soft, white brickwork carefully arranged in a Saxon-bond, with a continuous cast concrete lintel over two openings.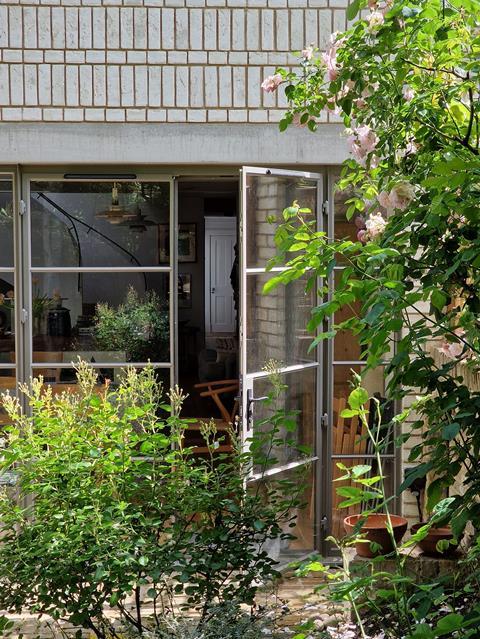 There is no plate glass patio slider here as one might expect, but instead W40 steel windows divided up in a homely 1930s pattern. A flat roof over the extension's other half forms a roof terrace above, served by a small upper ground-floor study.
Further back into the new space, the architects have chosen to remove the house's original stair, to relocate it with a new, softly curving white staircase set within a new centrally located void, releasing the rear wall and sash window to float above. This unexpected move is at complete odds with the original house's anatomy. But the void acts as the dividing line between the old and new architecture, leaving the traditional street facing front room untouched.
Here again less is not more, for like the sawtooth roof, the new stair could have been simpler in plan, orthogonal perhaps or just not built at all. But in fact, it acts as a fitting introduction to the new space below and with solid white plastered balustrades, it successfully merges into the architectural whole.
The expansive new lower ground-floor interior is much more classic than modern. The client is a psychotherapist, which I always think of as a calm profession: perhaps this was also the design intention here. At first glance, or to the uninitiated, you almost might not see architecture here at all.
A long-held collection of ceramics and paintings line the interior, the kitchen is well detailed but is not in any way spartan: the whole experience is one of comfort, familiarly and longevity.
This then is personal architecture. The client found this architect through a friend; an excellent small builder did the work; even with a rise in initial costs and an extended build period, she has no regrets whatsoever.
vPPR have produced a mature piece of work here, out of what is now their established architectural practice, whose work type and scale is no longer primarily domestic. For me it demonstrates what architecture should be primarily for, which is to provide a service to fully meet a client's needs, whilst using design to absolutely expand that project's potential.
Leconfield Road, London N5
ArchitectvPPR:Teresa Erskine, Aoife Kelly, Tatiana von Preussen
EngineerMomentum
QSGeoff Beardsley and Partners: John Underdown, Aleksandra Witkowska
Environmental ServicesEnhabit
ContractorP&D Building Services Ltd